Lesson One:
How to hold the sticks, The Mighty Two and Preparation For A Rock and Roll Backbeat
Lesson Two: The Single Paradiddle and the Five Stroke Roll
34 Additional Rudiments: More Advanced Rudiments
Upbeats and Downbeats: Playing with Three Limbs!
Greetings From
American Drum School!
---
Check out the Superdrum demo with
new endorser Tony Austin
---
---
---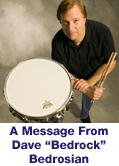 Want to learn to play the drums and be a drummer?
Get Free Drum Lessons at American Drum School!
Click the links on the left to try our FREE Drum Lessons and see our FREE Drum Instruction Movie Clips!
Money Back Guarantee on any
American Drum School purchase
Accepting All Major Credit Cards



Fast Service-most orders shipped in 48 hours or less
Overnight Shipping Available
Convenience and Safety of Secured Credit Card Transactions on all products