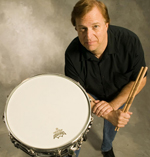 Hello to anyone with me here in cyberspace! I have come here out of a sincere desire to share my love of drums and what I have learned about how to play drums. Playing the drums was a wonderful discovery for me in my teenage years. A time when you need some exciting possibilities and a way to release tension! And my career, it has had some terrific moments, and some terrible ones -- but it has never been boring. The love that I have for music and playing the drums has been a stabilizing force for me for almost 30 years. It is because of music that I can say I am a happy person. Music and playing the drums.
Though I talk about having fun with music all the time with my students, I need to tell you that it is much more important to me than that. I always enjoyed listening to music while I was growing up, my father played recordings around the house a lot. I flirted briefly with the piano at my mother's insistence and wanted to try the guitar when I was about 13. I remember vividly watching a parade and feeling the sound waves from the drummers as they passed by. I was impressed that you could feel the sound in your stomach! It wasn't until I was 14 or 15 that I really got interested in bands from songs on the radio. Imagine hearing Cream, The Who, Jimi Hendrix, and Led Zepplin on Top Forty radio. These were the most important bands and the most influential drummers of the day. When I heard Ginger Baker solo on "Toad" on the Wheels of Fire album that something was stirred deep inside of me. I was intrigued and knew I needed to learn more. This came shortly thereafter at a friend-of-a-friend's house. I don't remember his name, but he had a drum set and I asked him to play it for me. He did and I asked him if I could play it. I sat down at the drums and without the faintest idea what to do I asked him to show me something to play. He said, "Play a beat." Of course, I had no idea what that meant, so I dragged as much information out of him that I could. Needless to say, I didn't get very far that day, but it started something that was not destined to end in my lifetime.
Beginning my career in Rhode Island, I have extensive experience playing in all situations beginning with rock bands at the age of 15 and including rock, blues, rhythm and blues, commercial, pop, country, small group and big band jazz, fusion and even ethnic styles (100 piece accordion orchestras)! After entering college, I played in concert bands, symphony orchestras, opera and contemporary chamber music (including many performances of "Ionization" composed by Edgard Varese and "Ancient Voices of Children" composed by George Crumb). I taught drums at Luca Music Studio in North Providence from 1973-1978.
Looking for adventure, I decided to take the plunge and moved to Los Angeles in January, 1979 were I performed with Lola Falana, Gospel and Blues great Linda Hopkins, Rosemary Clooney, Jerry Van Dyke, the Ink Spots, Chuck Mangione, John Cafferty, Randy Meisner and Barbara Mcnair to name just a few.
I began my private studies with local teachers in Rhode Island, including Bob Paola and Paul Biagetti. I earned my Bachelors degree from Rhode Island College in 1976 while studying with George Goneconto. I credit these teachers with helping me get started professionally. I then studied in Massachusetts from 1977-1978 with Alan Dawson before moving to LA and attended Cal State LA as a graduate student (1979-1980), studying there with Mitch Peters (Principle Percussionist LA Philharmonic). I resumed teaching in the Pasadena area in 1981 and continue to this day. I have been doing drum clinics in music stores in Southern California for many years and I am a former Remo and Sabian endorser. I now endorse Sunlite drums, Istanbul cymbals and Hot Sticks.
It has been my desire to share my knowledge and experience through video with any person with an interest in drums. I first realized my need to share this about ten years ago but it has only been recently -- through the power of the internet -- that I feel this has been accomplished. I have been very lucky to have several excellent teachers and many performing opportunities as well as over 20 years experience as a teacher. This is wealth that I really am grateful for.
I have always been interested in technology and it was just a few years after the Sony Betamax was first advertised on TV that it dawned on me that with video, all kinds of information could now be viewed at home, anytime you wanted to watch it. I began to develop the idea of teaching the drums with video. It seemed like the perfect way to do it! The drum is such a visual instrument and watching someone play is a better way to learn. The problems of learning from a method book are solved. What do you do when you can't read notes or you don't read notes well? By being able to watch and hear what it is you are trying to learn you pick it up much faster, and you can replay an example as many times as you like without trying anyone's patience! Now, if only we could find a way to make practicing easier! (more on this later)
My first experiments were with a home video camera and later when I felt ready, I pieced together a video from tape recorded in a series of different production facilities. This resulted in an one-hour instructional program called "Play Drums Now," published by Centerstream/Hal Leonard -- which is still available in retail music stores and by mail from catalogues (I saw it on the Net!). At the time I was using a stage name "Rick Petrie" which was a nickname that I had since living in Rhode Island and that I no longer use. Presently, all of my work is taped in a professional three camera studio, and after many programs we are finally beginning to achieve the kind of quality that I want.
It is important to me and this company to put out good quality instructional materials that really teach and are inexpensive. After more than ten years in the business I have seen and heard a lot. Nobody is getting rich selling video music lessons and it was never my intention to try. It is, however, important to me to make knowledge about drums and how to play drums available to anyone that wants it!
If you have read this far, you must realize that I don't think videos replace a teacher in any way. On the contrary, I have always valued the personal contact and relationship that you have with a teacher. I have used my tapes with my students and have always found that the learning process works better when they have taken them home and watched! Through the use of video I have been able to preserve the teaching insights that were hard won by my teachers and have been able to continuously refine my own techniques of the most effective methods of teaching how to play the drumset and how to become a musician!!! The drum set is exclusively an American instrument (the American Drum School) born in the US and has not been in existence as it is today for more than a few decades. The Art of playing drums is equally new and amazing evolutions have occurred! There will be many more in the future!

Feel free to drop Dave a line at Dave's Email